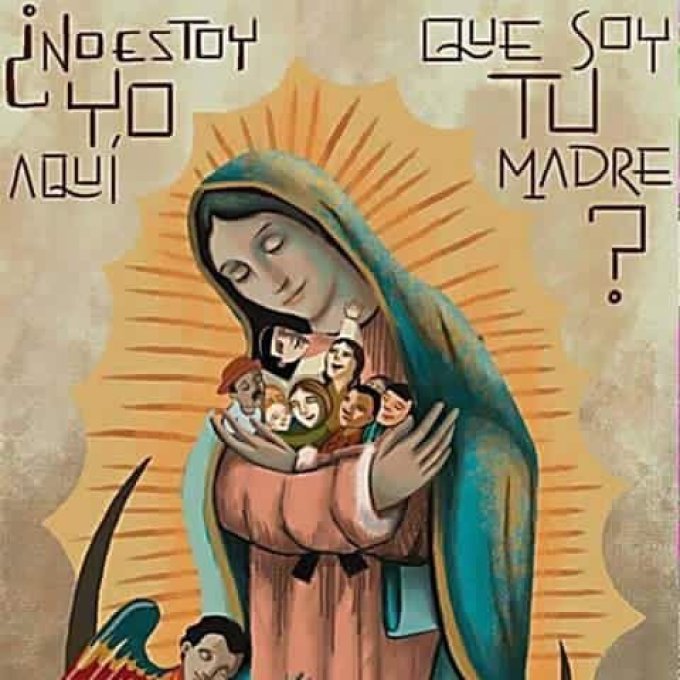 The Story of Our Lady of Guadalupe
"On the following day, Monday, when Juan Diego was to carry a sign so he could be believed, he failed to return, because, when he reached his home, his uncle, named Juan Bernardino, had become sick, and was gravely ill. First, he summoned a doctor who aided him; but it was too late, he was gravely ill. By nightfall, his uncle requested that by break of day he go to Tlaltilolco and summon a priest, to prepare him and hear his confession, because he was certain it was time for him to die, and that he would not arise or get well.
On Tuesday, before dawn, Juan Diego came from his home to Tlaltilolco to summon a priest; and as he approached the road which joins the slope to Tepeyac hilltop, toward the west, where he was accustomed to cross, said: 'If I proceed forward, the Lady is bound to see me, and I may be detained, so I may take the sign to the prelate, as prearranged; that our first affliction must let us go hurriedly to call a priest, as my poor uncle certainly awaits him.' Then he rounded the hill, going around, so he could not be seen by her who sees well everywhere. He saw her descend from the top of the hill and was looking toward where they previously met. She approached him at the side of the hill and said to him: 'What's there, my son the least? Where are you going?' Was he grieved, or ashamed, or scared? He bowed before her. He saluted, saying: 'My Child, the most tender of my daughters, Lady, God grant you are content. How are you this morning? Is your health good, Lady and my Child? I am going to cause you grief. Know, my Child, that a servant of yours is very sick, my uncle. He has contracted the plague and is near death. I am hurrying to your house in Mexico to call one of your priests, beloved by our Lord, to hear his confession and absolve him, because, since we were born, we came to guard the work of our death. But if I go, I shall return here soon, so I may go to deliver your message. Lady and my Child, forgive me, be patient with me for the time being. I will not deceive you, the least of my daughters. Tomorrow I will come in all haste.'
After hearing Juan Diego's chat, the Most Holy Virgin answered: 'Hear me and understand well, my son the least, that nothing should frighten or grieve you. Let not your heart be disturbed. Do not fear that sickness, nor any other sickness or anguish. Am I not here, who is your Mother? Are you not under my protection? Am I not your health? Are you not happily within my fold? What else do you wish? Do not grieve nor be disturbed by anything. Do not be afflicted by the illness of your uncle, who will not die now of it. be assured that he is now cured.' (And then his uncle was cured, as it was later learned.)
When Juan Diego heard these words from the Lady from heaven, he was greatly consoled. He was happy. He begged to be excused to be off to see the bishop, to take him the sign or proof so that he might be believed. The Lady from heaven ordered to climb to the top of the hill, where they previously met. She told him: 'Climb, my son the least, to the top of the hill; there where you saw me and I gave you orders, you will find different flowers. Cut them, gather them, assemble them, then come and bring them before my presence.' Immediately Juan Diego climbed the hill, and as he reached the summit, he was amazed that so many varieties of exquisite Rosas de Castilla [Castillan roses] were blooming, long before the time when they are to bud, because, being out of season, they would freeze. They were very fragrant and covered with dewdrops of the night, which resembled precious pearls. Immediately he started cutting them. He gathered them all and placed them in his tilma [his cape]. The hilltop was no place for any kind of flowers to grow because it had many crags, thistles, thorns, nopales, and mezquites. Occasionally weeds would grow, but it was then the month of December, in which all vegetation is destroyed by freezing. He immediately went down the hill and brought the different roses which he had cut to the Lady from heaven, who, as she saw them, took them with her hand and again placed them back in the tilma, saying: 'My son the least, this diversity of roses is the proof and the sign which you will take to the bishop. You will tell him in my name that he will see in them my wish and that he will have to comply to it. You are my ambassador, most worthy of all confidence. Rigorously I command you that only before the presence of the bishop will you unfold your mantle and disclose what you are carrying. You will relate all and well; you will tell that I ordered you to climb to the hilltop, to go and cut flowers; and all that you saw and admired, so you can induce the prelate to give his support, with the aim that a temple be built as I have asked.'
After the Lady from heaven had given her advice, he was on his way by the avenue that goes directly to Mexico; being happy and assured of success, carrying with great care what he bore in his tilma, being careful; that nothing would slip from his hands, and enjoying the fragrance of the variety of the beautiful flowers."
To be continued...
Opening Prayer
Mary, Mother of Unity,
Intercede for the Church in America,
That we may be gathered together
To form the one people of the New Covenant.
Mother of the human race,
Ask your Son to pour out upon us
A spirit of compassion and solidarity.
Novena Prayer
Mary, Mother of vocations, we beg you to multiply priestly vocations and fill the earth with religious houses which will be light and warmth for the world and safety in stormy nights. Beg your Son to send us many holy priests and religious. This we ask of you, O Mother... (mention your intentions here).
Our Father...
Hail Mary... x3
Glory Be...
Meditation
"Mary was able to turn a stable into a home for Jesus, with poor swaddling clothes and an abundance of love. She is the handmaid of the Father who sings his praises. She is the friend who is ever concerned that wine not be lacking in our lives. She is the woman whose heart was pierced by a sword and who understands all our pain. As mother of all, she is a sign of hope for peoples suffering the birth pangs of justice. She is the missionary who draws near to us and accompanies us throughout life, opening our hearts to faith by her maternal love. As a true mother, she walks at our side, she shares our struggles and she constantly surrounds us with God's love. Through her many titles, often linked to her shrines, Mary shares the history of each people which has received the Gospel and she becomes a part of their historic identity. Many Christian parents ask that their children be baptized in a Marian shrine, as a sign of their faith in her motherhood which brings forth new children for God. There, in these many shrines, we can see how Mary brings together her children who with great effort come as pilgrims to see her and to be seen by her. Here they find strength from God to bear the weariness and the suffering in their lives. As she did with Juan Diego, Mary offers them maternal comfort and love, and whispers in their ear: 'Let your heart not be troubled… Am I not here, who am your Mother?'" - Pope Francis, in Apostolic Exhortation Evangelii Gaudium, § 286.
Closing Prayer
O Lady of Guadalupe,
Pray for the Church in America,
And walk with us in the new millennium of faith.
Memorare of Our Lady of Guadalupe: click the Pray button below.
Pictures:
1) Our Lady of Guadalupe pictured as the Mother of all people - Artist unknown.
2) Our Lady filling Juan Diego's tilma with roses - Artist unknown.
Take a moment to treasure up all these things and ponder them in your heart (cf Luke 2,19)
Let your speech always be gracious, seasoned with salt, so that you may know how you ought to answer everyone. Col 4:6