First Day - The Immaculate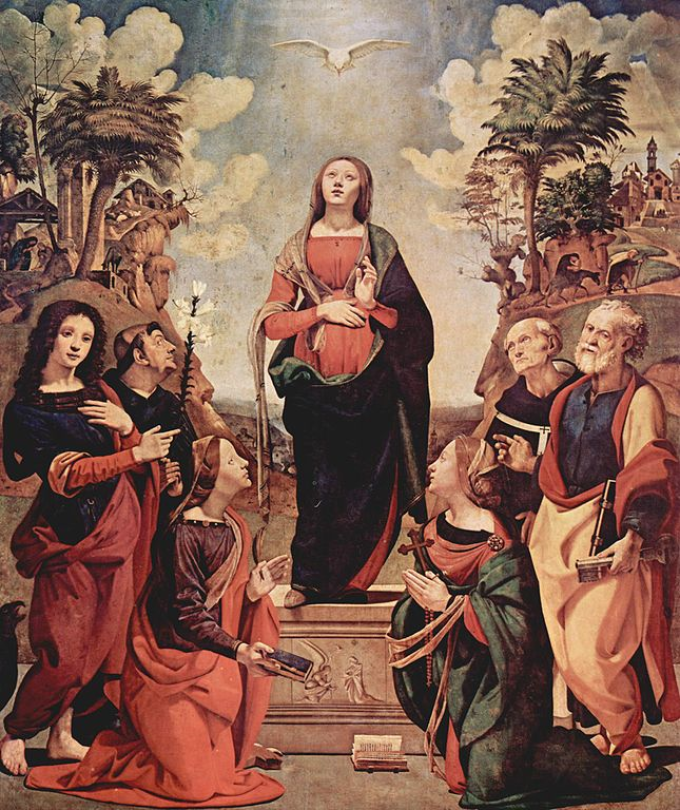 Opening Prayer
How fair are you, O Mary, the original stain is not in you. You are the glory of Jerusalem; you are the joy of Israel, you give honor to our people. You are the advocate of sinners. O Mary, Virgin most prudent, Mother most merciful, pray for us, intercede for us, with the Lord Jesus Christ. Holy Virgin, you were spotless from the very moment of your conception. Because you bore His Son, pray to the Father for us.
O God, who by the Immaculate Conception of the Blessed Virgin prepared a worthy dwelling for your Son, grant, we pray, that, as you preserved her from every stain by virtue of the death of your Son, which you foresaw, so, through her intercession, we, too, may be cleansed and admitted to your presence. Through our Lord Jesus Christ, your Son, who lives and reigns with you in the unity of the Holy Spirit, one God, forever and ever. Amen.
A Reading from the Writings of St. Maximilian Kolbe
"Human words cannot describe who the one is, who became the true Mother of God. Of course, taken by herself, she is merely a creature. Yet, she was raised up so high by God that one would need to understand who God is to comprehend who the Mother of God is. Also, she is the true Mother of God. It is a dogma of faith.
Although the dignity of divine motherhood accounts for most of her privileges, the first grace she received from God was her Immaculate Conception, her exemption from any blemish, even from original sin, since the first moment of her existence. Such privilege, moreover, must be very dear to her, for in Lourdes she named herself: 'I am the Immaculate Conception.' On that occasion, she did not say, 'I was conceived without sin,' but 'I am the Immaculate Conception;' it follows of necessity that she is immaculateness itself.
In fact, she is a conception, since she came into existence in time. However, she is the Immaculate Conception. God said to Moses: 'I am Who I am' [Ex 3:14]: I am existence itself, so I am without beginning. Instead, the Immaculate says of herself, 'I am Conception,' but, unlike all other human beings, the 'Immaculate Conception.'" (KW 1292)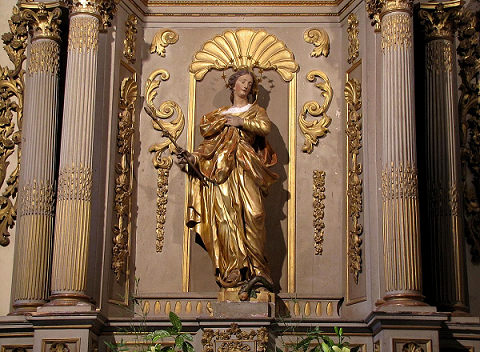 Prayer Intention
For the Catholic Church throughout the world and in our country, for His Holiness Pope Francis, the Bishops, the Priests, the Consecrated. May the Lord keep them faithful to their vocation and the proclamation of His message, may He strengthen them with the gifts of the Spirit and help them serve their subjects, especially the poor and lowly.
Our Father...
Hail Mary...
Glory Be...
O Mary, conceived without sin, pray for us who have recourse to you, and for all those who do not have recourse to you, especially the enemies of Holy Church and all those recommended to you.
Meditation
The Novena to the Immaculate Conception is in perfect harmony with the spirit of Advent; while the soul is preparing for the coming of the Redeemer, it is fitting to think of her, the all-pure one, who was His Mother.
The very promise of a Savior was joined to, or rather, was included in the promise of this peerless Virgin. After having cursed the insidious serpent, God proclaimed: "I will put enmities between thee and the woman, and thy seed and her seed: she shall crush thy head" (Gen 3:15). And behold, the Virgin whose coming was foretold, approaches, "white as snow, more beautiful than the sun, full of grace, and blessed above all women" - From the Roman Breviary.
Closing Prayers
Novena Prayer to the Immaculate
I greet you, ever-blessed Virgin, Mother of God throne of grace, miracle of almighty power! I greet you, sanctuary of the most Holy Trinity and Queen of the universe, Mother of mercy and refuge of sinners! Most loving Mother, attracted by your beauty and sweetness and by your tender compassion, I confidently turn to you, and beg of you to obtain for me of your dear Son the favor I request in this novena (here mention your request).
Obtain for me also, Queen of Heaven, the most lively contrition for my many sins and the grace to imitate closely those virtues which you practiced so faithfully especially humility, purity, and obedience. Above all, I beg you to be my mother and protectress, to receive me into the number of your devoted children, and to guide me from your high throne of glory. Do not reject my petitions, Mother of mercy! Have pity on me, and do not abandon me during life or at the moment of my death.
Daughter of the Eternal Father, Mother of the Eternal Son, Spouse of the Holy Spirit, temple of the adorable Trinity, pray for me. Immaculate and tender Heart of Mary, refuge of the needy and hope of sinners, filled with the most lively respect, love, and gratitude, I devote myself forever to your service, and I offer you my heart with all that I am and all that belongs to me. Accept this offering, sweet Queen of Heaven and earth, and obtain for me of your dear Son, Jesus Christ, the favors I ask through your intercession in this novena. Obtain for me also a tender, generous, constant love of God, perfect submission to his adorable will, the true spirit of a Christian, and the grace of final perseverance. Amen.
Closing Prayer of Identification with the Immaculate
O Immaculate Conception, Mary, my Mother, live in me, act in me, speak in and through me. Think your thoughts in my mind, love through my heart. Give me your own dispositions and feelings. Teach, lead and guide me to Jesus. Correct, enlighten and expand my entire personality and life. Replace me with yourself. Incline me to constant adoration and thanksgiving; pray in and through me. Let me live in you and keep me in this union always. Amen.


Pictures:
1) The Immaculate Conception, by Piero Di Cosimo, 1505 - CC0 Public Domain.
2) Altar of the Immaculate Conception, SS Peter and Paul Church, Alsace, France - Photograph by Ralph Hamman, CC BY-SA 4.0.
Take a moment to treasure up all these things and ponder them in your heart (cf Luke 2,19)
2 comments
Let your speech always be gracious, seasoned with salt, so that you may know how you ought to answer everyone. Col 4:6