Luminous Mystery: the Wedding at Cana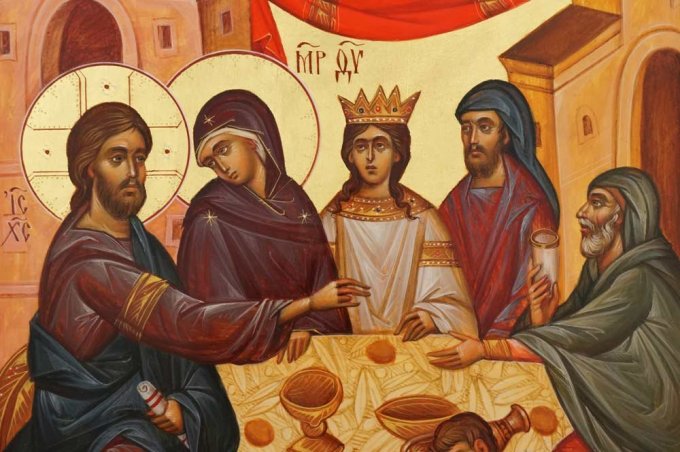 The fruit of the second luminous mystery, the Wedding at Cana, is the intercession of Mary.
In the Gospel passage [of the Wedding at Cana - John 2], Mary makes a request of her Son on behalf of some friends in need. At first sight, this could appear to be an entirely human conversation between a Mother and her Son and it is indeed a dialogue rich in humanity. Yet Mary does not speak to Jesus as if he were a mere man on whose ability and helpfulness she can count. She entrusts a human need to his power to a power which is more than skill and human ability. In this dialogue with Jesus, we actually see her as a Mother who asks, one who intercedes. As we listen to this Gospel passage, it is worth going a little deeper, not only to understand Jesus and Mary better but also to learn from Mary the right way to pray. Mary does not really ask something of Jesus: she simply says to him: "They have no wine" (Jn 2:3). Weddings in the Holy Land were celebrated for a whole week; the entire town took part, and consequently, much wine was consumed. Now the bride and groom find themselves in trouble, and Mary simply says this to Jesus. She doesn't ask for anything specific, much less that Jesus exercise his power, perform a miracle, produce wine. She simply hands the matter over to Jesus and leaves it to him to decide about what to do.

In the simple words of the Mother of Jesus, then, we can see two things: on the one hand her affectionate concern for people, that maternal affection which makes her aware of the problems of others. We see her heartfelt goodness and her willingness to help. To her, we entrust our cares, our needs, and our troubles. Her maternal readiness to help, in which we trust, appears here for the first time in the Holy Scriptures. But in addition to this first aspect, with which we are all familiar, there is another, which we could easily overlook: Mary leaves everything to the Lord's judgment.
At Nazareth she gave over her will, immersing it in the will of God: "Here am I, the servant of the Lord; let it be with me according to your word" (Lk 1:38). And this continues to be her fundamental attitude. This is how she teaches us to pray: not by seeking to assert before God our own will and our own desires, however important they may be, however reasonable they might appear to us, but rather to bring them before him and to let him decide what he intends to do. From Mary, we learn graciousness and readiness to help, but we also learn humility and generosity in accepting God's will, in the confident conviction that, whatever it may be, it will be our, and my own, true good.

Through Mary, we want to continue our converse with the Lord and to learn how to receive him better. Holy Mother of God, pray for us, just as at Cana you prayed for the bride and the bridegroom! Guide us towards Jesus - ever anew! Amen! - Pope Emeritus Benedict XVI, in his homily in Altötting, 9/11/2006.
Prayer intention: for the bishops
Father, we entrust to Your care the bishops and archbishops of Your Church worldwide. Grant that they receive the Holy Spirit and be enlightened, so that they may take concrete, positive decisions for justice and reparation. May they also implement means so that those crimes may never happen again, be hidden again.
Father, grant them the grace to be the Pastors your Church needs. May they guide us toward You and give to the Church the missionary impulse she currently needs.
With Mary and Saint Michael Archangel, we ask You in the name of Jesus. Amen.
Let us pray:
One Our Father.
Ten Hail Mary.
The special prayers to the Blessed Virgin and St. Michael Archangel by clicking on the button "Pray" below.
Please share on social media: those who are not part of the community will at least be able to meditate on the content.
Picture: The Wedding at Cana, Orthodox Byzantine Icon, no further attributions.
Take a moment to treasure up all these things and ponder them in your heart (cf Luke 2,19)
Let your speech always be gracious, seasoned with salt, so that you may know how you ought to answer everyone. Col 4:6