Joyful Mystery: the Finding of Jesus in the Temple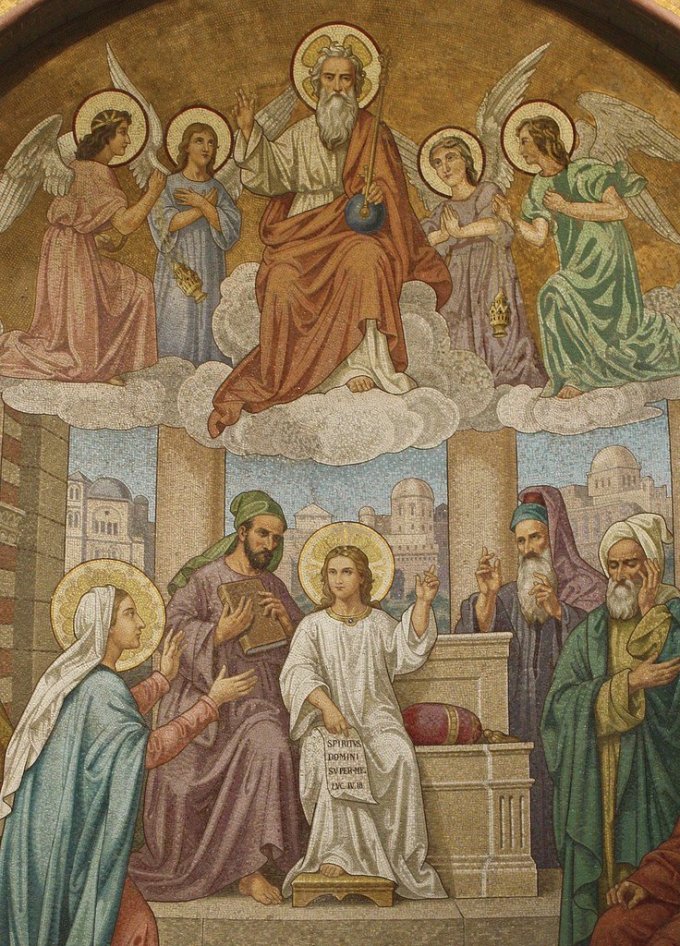 The fifth joyful mystery is the Finding of Jesus in the Temple, and its fruit is seeking God always.
Consider when this was. When the Lord Jesus, as to His Human Nature, was twelve years old (for as to His Divine Nature He is before all times, and without time), He tarried behind them in the temple, and disputed with the elders, and they wondered at His doctrine; and His parents who were returning from Jerusalem sought Him among their company, among those, that is, who were journeying with them, and when they found Him not, they returned in trouble to Jerusalem, and found Him disputing in the temple with the elders, when He was, as I said, twelve years old.But what wonder? The Word of God is never silent, though it is not always heard. He is found then in the temple, and His mother saith to Him, "Why hast Thou thus dealt with us? Thy father and I have sought Thee sorrowing;" and He said, "Wist ye not that I must be about My Father's service?" This He said for that the Son of God was in the temple of God, for that temple was not Joseph's, but God's. See, says some one, "He did not allow that He was the Son of Joseph."Wait, brethren, with a little patience, because of the press of time, that it may be long enough for what I have to say. When Mary had said, "Thy father and I have sought Thee sorrowing," He answered, "Wist ye not that I must be about My Father's service?" for He would not be their Son in such a sense, as not to be understood to be also the Son of God. For the Son of God He was--ever the Son of God--Creator even of themselves who spake to Him; but the Son of Man in time; born of a Virgin without the operation of her husband, yet the Son of both parents. Whence prove we this? Already have we proved it by the words of Mary, "Thy father and I have sought Thee sorrowing." ...The answer then of the Lord Jesus Christ, "I must be about My Father's service," does not in such sense declare God to be His Father, as to deny that Joseph was His father also. And whence prove we this? By the Scripture, which saith on this wise, "And He said unto them, Wist ye not that I must be about My Father's service; but they understood not what He spake to them: and when He went down with them, He came to Nazareth, and was subject to them." It did not say, "He was subject to His mother," or was "subject to her," but "He was subject to them." To whom was He subject? was it not to His parents? It was to both His parents that He was subject, by the same condescension by which He was the Son of Man... The world was subject unto Christ, and Christ was subject to His parents - Saint Augustine, in Sermons on the New Testament.

Prayer intention: for the priests
Father, we entrust to Your care the priests and the consecrated of Your Church. Please gather the lost sheep, that committed shameful acts: put in their heart a sincere repentance, and grant them the courage to do all they can so their victims may obtain justice, grant them to repair the horror they created by coming forward and admitting their crimes.
Father, take under Your caring wing the ecclesial authorities who are dealing with such scandals: help them adopt the correct attitude, while always defending the interest of the victims, and of their families, thus honoring the Church. And finally, Father, give strength to the priests and religious who are faithful servants of the Gospel and whose burden is heavy these days when the clergy is under suspicion, and who are even victims of false accusations.
With Mary and Saint Michael Archangel, we ask You in the name of Jesus. Amen.
Let us pray:
One Our Father.
Ten Hail Mary.
The special prayers to the Blessed Virgin and St. Michael Archangel by clicking on the button "Pray" below.
Please share on social media: those who are not part of the community will at least be able to meditate on the content.
Picture: Jesus with Doctors of the Law, Mosaic in the Basilica Our Lady of the Rosary in Lourdes, France. Picture by Fr. Lawrence Lew, O.P., August 2008.
Take a moment to treasure up all these things and ponder them in your heart (cf Luke 2,19)
1 comment
Let your speech always be gracious, seasoned with salt, so that you may know how you ought to answer everyone. Col 4:6