Day three: for the educators and teachers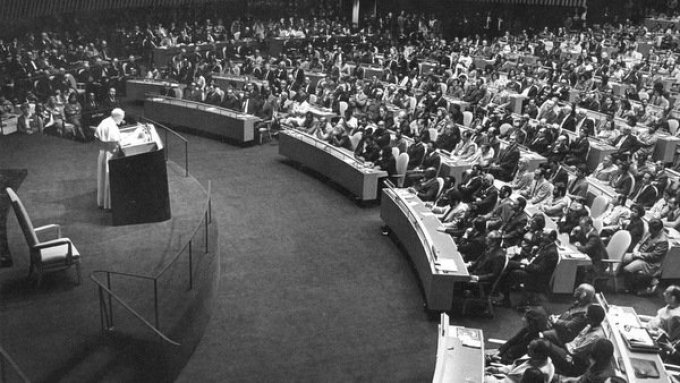 Daily verse:
"I am the good shepherd. A good shepherd lays down his life for the sheep. A hired man, who is not a shepherd and whose sheep are not his own, sees a wolf coming and leaves the sheep and runs away, and the wolf catches and scatters them. This is because he works for pay and has no concern for the sheep. I am the good shepherd, and I know mine and mine know me, just as the Father knows me and I know the Father; and I will lay down my life for the sheep. I have other sheep that do not belong to this fold. These also I must lead, and they will hear my voice, and there will be one flock, one shepherd. This is why the Father loves me, because I lay down my life in order to take it up again. No one takes it from me, but I lay it down on my own. I have power to lay it down, and power to take it up again. This command I have received from my Father." John 10, 11-18.
Teaching of John Paul II:
"To be truly a people at the service of life we must propose these truths constantly and courageously from the very first proclamation of the Gospel, and thereafter in catechesis, in the various forms of preaching, in personal dialogue and in all educational activity. Teachers, catechists, and theologians have the task of emphasizing the anthropological reasons upon which respect for every human life is based. In this way, by making the newness of the Gospel of life shine forth, we can also help everyone discover in the light of reason and of personal experience how the Christian message fully reveals what man is and the meaning of his being and existence. We shall find important points of contact and dialogue also with non- believers, in our common commitment to the establishment of a new culture of life." Encyclical Evangelium Vitae, § 82, 3/25/1995.
Witness account:
Saint John Bosco
Italian priest of the 19th century, founder of the Society St. Francis of Sales, St. John Bosco dedicated his life to serving the youth, educating them in joy and love. By showing them love and respect, he enabled them to discover all that life had to offer.
Meditation:
Today, we pray for educators and teachers: parents, who are the first educators of their children, teachers, catechist, youth counselors. May they spark in the children and the youth a love for life. May they help them become men and women, happy and strong adults, who will, in turn, become apostles of the Gospel of Life.
Our Father...
Hail Mary...
Glory be...
Saint John Paul II, pray for us.
Picture: John Paul II addresses the General Assembly at the United Nations in New York Oct. 2, 1979 (CNS file photo).
Take a moment to treasure up all these things and ponder them in your heart (cf Luke 2,19)
Let your speech always be gracious, seasoned with salt, so that you may know how you ought to answer everyone. Col 4:6