"Bishop for you, Christian with you."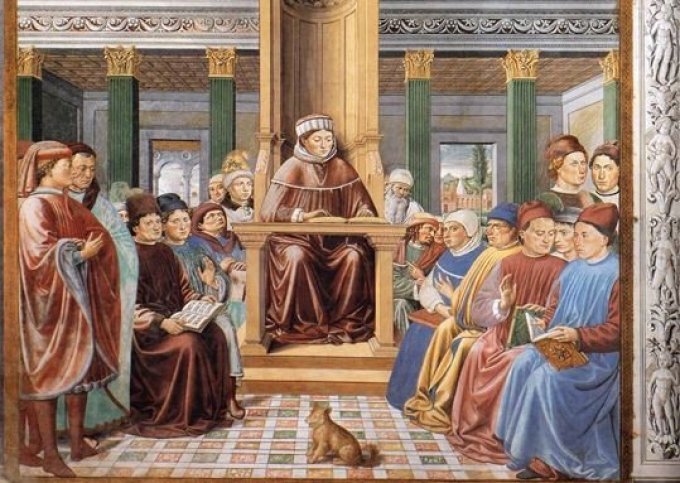 A life given to God... and to his people
It is an exhausted Augustine who dies on August 28, 430. He is too poor to leave a will, as he gave everything: his time, his energy, his kindness, his knowledge. The Christian life was, for him, the sharing of God's gifts. All are invited to the table of the Father, to feed on His bread, His Word. Augustine tried his best to listen to this Word. He studied it tirelessly, explained it in his sermons and books. His writings aimed at answering pastoral issues to help his readers grow in the love of Christ.
"Bishop for you, Christian with you," used to say Augustine. First and foremost, he lived a life of intense prayer. His understanding of the Scriptures increased throughout his life. His participation in public liturgy strengthened him. His caring attitude toward all remains legendary: the catechumens on their path to baptism, the morally disoriented epistolary writers, the discouraged catechists, the doubting priests... For Augustine, all Christians must form one single body within Christ. What is Christian life anyway, if not this incorporation to Christ, this rebirth in God and this spiritual growth until the meeting face-to-face?
Augustine learned to remember that the Lord was always by his side. We can learn too, through this life so generously given to us.
Prayer for the new year
Augustine tried to live as a disciple of Christ, with all that it implies.
Lord our God, the new year is approaching, back to school, to college, work... and we are soon resuming our daily life. Grant us to be able to allocate a tiny part of our time to read your Word, grant us the joy to serve our brothers and sisters. May that be our assignment for this upcoming year.
Through Jesus Christ our Lord, Amen.
Artwork: Mural by Benozzo Gozzoli, 15th century. St. Augustine Chapel, San Gimigniano, Tuscany.
Closing words:
Christian at 33, priest at 36, bishop at 41: you were probably already familiar with the broad picture of the life of Augustine of Hippo, sinner turned saint. But to get to know the man in more details is a rewarding experience, and I hope that you enjoyed discovering this outstanding person.
If we can define Augustine's life in one word, it would be "intense" - whether he was a sinner or saint, he did it intensely.
Augustine remains profoundly human and kind in his behavior: he is deeply involved in a licentious way of life, but he is touched by his mother's tears. He is sensitive to the teaching of his friend Ambrose and listens to God who speaks to him through the Scriptures. Augustine's love of life is turning into a life of love.
And then, all pride set aside, with all the difficulties that it may entail, his life shifts entirely, intensely. He fights fiercely against the decadence of his days, whether political, moral, or social. He also fights religious fundamentalism. The rectitude, respect, and dignity he adopted when under attack are examples to follow, in today's world so similar to Augustine's world.
Augustine's teaching shaped the way of thinking in the West. Whether his teaching is acclaimed or condemned today, the fact remains that he was and still is exceptionally influent.
What is, in your opinion, the most important contribution of Augustine to our way of thinking? There are so many of them, theological, social, psychological, etc. that it is almost impossible to single one out. However, if I were asked that question, I would probably thank Augustine for his condemnation of escapism, and the need to stand face-to-face with personal responsibility and dignity.
Saint Augustine, pray for us.
United in prayer,
Providencia.
Bibliography of Saint Augustine:
Complete Works of Saint Augustine in English
Complete Works of Saint Augustine in Spanish
Take a moment to treasure up all these things and ponder them in your heart (cf Luke 2,19)
Let your speech always be gracious, seasoned with salt, so that you may know how you ought to answer everyone. Col 4:6