Day 3 - Give yourself to the poor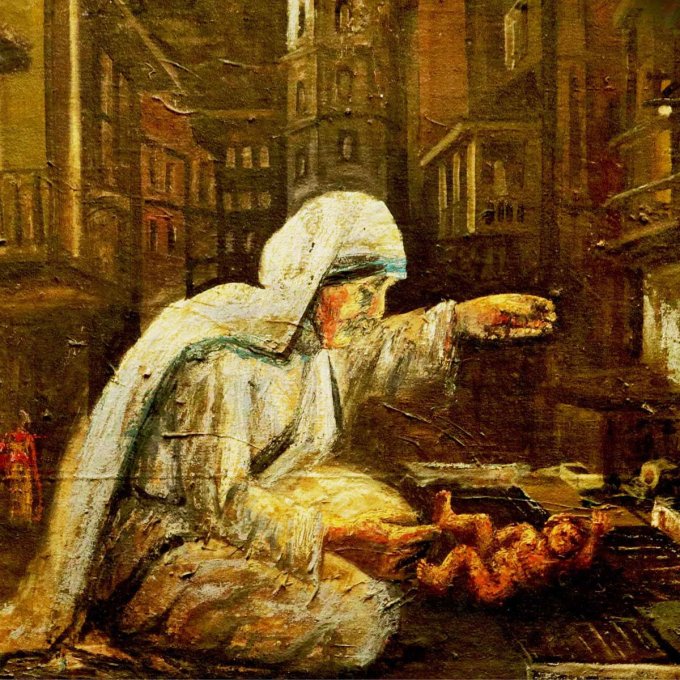 Dearest Lord, may I see you today and every day in the person of your sick, and whilst nursing them, minister unto you. Though you hide yourself behind the unattractive disguise of the irritable, the exacting, the unreasonable, may I still recognize you and say "Jesus, my patient, how sweet it is to serve you." - Mother TeresaIn September 1946, Mother Teresa is sent to Loreto Convent in Darjeeling, India, for her annual retreat. During her journey, she feels a strong calling to give herself entirely to the poor and to serve them.
John 19, 28-30
After this, aware that everything was now finished, in order that the scripture might be fulfilled, Jesus said, "I thirst." There was a vessel filled with vinegar. So they put a sponge soaked in vinegar on a sprig of hyssop and put it up to his mouth. When Jesus had taken the vinegar, he said, "It is finished." And bowing his head, he handed over the spirit.
"I thirst." This cry of Jesus on the Tree is written on the wall of all chapels of the Missionaries of Charity. This sentence is much deeper than if Jesus simply said: "I love you." Jesus thirst for each one of us. Thus, the heart and soul of the Missionaries of Charity aim exclusively at quenching Jesus' heart, hidden in the poor and the miserable.
Prayer
Lord, teach me to answer personally to your cry of thirst and to feel your presence by my side every day of my life. At the dawn of this new year, I strongly desire to quench your thirst, to enter this intimacy to which you are inviting me, and to listen to your call with my heart so that I may hear and understand your Word. Amen.
Follow this prayer by one "Our Father," one "Hail Mary," and the daily prayer of Mother Teresa, which can be accessed by clicking on "Pray" below.
Today's little resolution: Am I able this year to give freely of my time for the poor? What commitment may I undertake - within my abilities - to concretely help those in need?
Artwork: Silent Night, by Nimai Sengupta
Take a moment to treasure up all these things and ponder them in your heart (cf Luke 2,19)
Let your speech always be gracious, seasoned with salt, so that you may know how you ought to answer everyone. Col 4:6