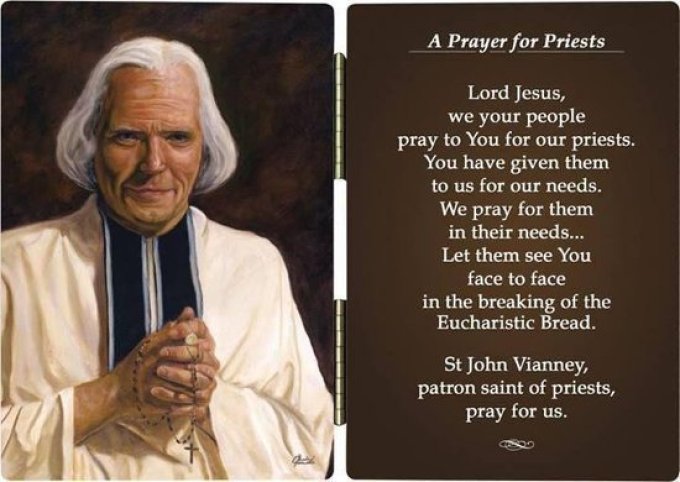 The Word of God :
During the meal, Jesus, having taken bread and pronounced the blessing, broke it and, giving it to the disciples, he said: "Take, eat: this is my body". And then, having taken a cup and having given thanks, he gave it to them, saying, "Drink all of you, for this is my blood, the blood of the Covenant, shed for the multitude in remission of sins." (Matthew 26, 26-28).
Litany of our Lord Jesus Christ Priest and Victim:
From the unworthy celebration of Your Mysteries, deliver us, Jesus
Through Your eternal priesthood, deliver us, Jesus
Through the holy anointing whereby You were constituted a priest by God the Father, deliver us, Jesus
Intention of prayer for a priest:
Lord Jesus Christ, may your Spirit renew Father N.... in his offering of the Eucharistic sacrifice: may he always be aware of his doing, may he model in his life what he celebrates and may he always conform to the mystery of the Lord's cross.
Our father...
Hail Mary...
Glory be to the Father, and to the Son, and to the Holy Spirit ...
Saint John Vianney, pray for our priests.
Take a moment to treasure up all these things and ponder them in your heart (cf Luke 2,19)
Let your speech always be gracious, seasoned with salt, so that you may know how you ought to answer everyone. Col 4:6