Day Six - At the foot of the Cross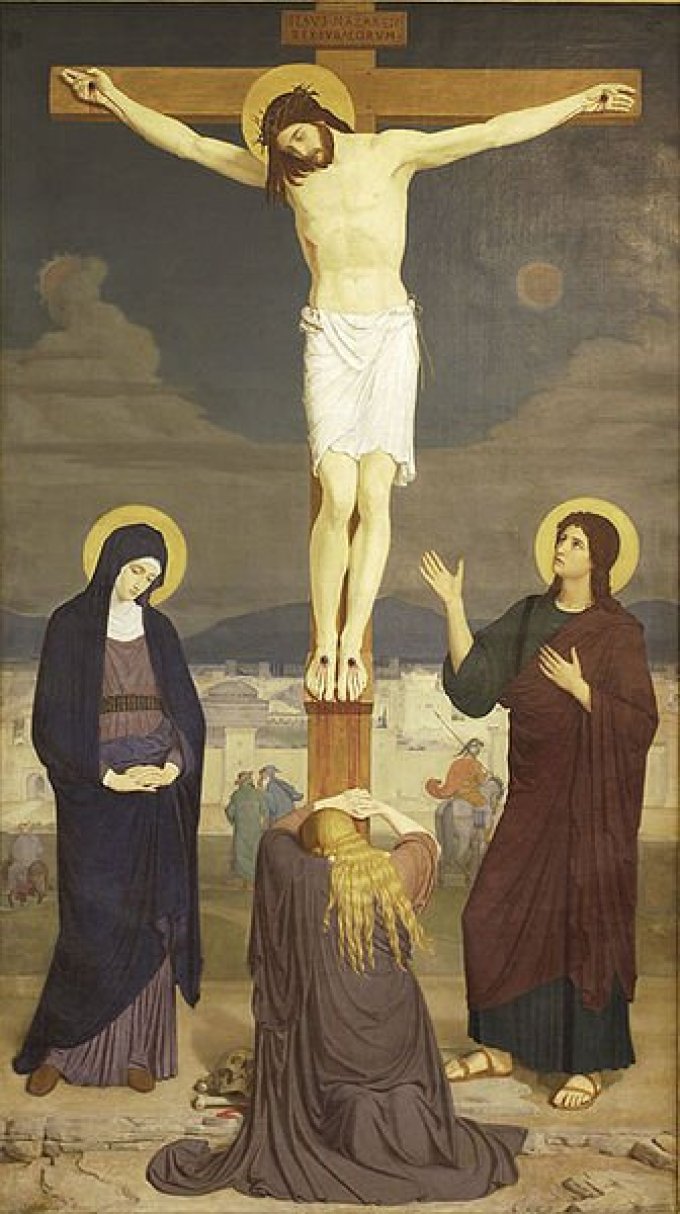 The Gospel
Mark 15:40-41 There were also women looking on from a distance. Among them were Mary Magdalene, Mary the mother of the younger James and of Joses, and Salome. These women had followed him when he was in Galilee and ministered to him. There were also many other women who had come up with him to Jerusalem.
Matthew 27:55-56 There were many women there, looking on from a distance, who had followed Jesus from Galilee, ministering to him. Among them were Mary Magdalene and Mary the mother of James and Joseph, and the mother of the sons of Zebedee.
Luke 23:55-56 The women who had come from Galilee with him followed behind, and when they had seen the tomb and the way in which his body was laid in it, they returned and prepared spices and perfumed oils. Then they rested on the Sabbath according to the commandment.
John 19:25 Standing by the cross of Jesus were his mother and his mother's sister, Mary the wife of Clopas, and Mary of Magdala.
Meditation
When Jesus enters Jerusalem, he is acclaimed by the crowds, welcomed with shouts of joy.
He and his apostles get ready for Passover. This Passover meal will take place in a particular atmosphere: it will be Jesus' last supper, during which he shares the wine and bread, his blood and his body, spiritual nourishment for our salvation.
During this meal, Judas will leave quietly to sell Christ for a few pieces of silver, while Peter promises Jesus eternal loyalty. Jesus retires to the Garden of Gethsemane. He is agonizing over what's awaiting him, he is afraid. Yet he accepts his Father's will.
Later, Jesus is arrested and led in front of the Sanhedrin. The following morning, he is brought before Pontius Pilate, who sees no motive for condemnation. But in front of a roaring, restless crowd, Pilates decides to grant the people what they want: to crucify Jesus and to release Barabbas.
Christ is sentenced to death. The cross is loaded on his back, and he starts the ascension of the Golgotha. His mother and Mary Magdalene, along with a few other women and John, follow him from a distance.
Jesus stumbles and falls thrice. Mary Magdalene hopes that he will perform a miracle that would release him from this ordeal, she is confident in his capacities.
But no mighty thunder comes from heavens, no lightning strikes the executioners, the cross is standing atop the hill. Mary Magdalene understands that nothing will prevent Jesus' death, nothing will change the situation miraculously. He is going to die, the one who declared to be "the spring of water welling up to eternal life" (John 4,14), the one who came to carry out "the will of the he who sent [him]" (John 5,30), "the bread of life" (John 6,35), the one who said "I AM" (John 8,24), "the good Shepherd" (John 10,11), "the son of God" (John 10,36), "the Resurrection" (John 11,24), "The way, the truth and the life" (John 14,6). How is that even possible?
Jesus is stripped of his clothes. His arms are spread on the wood of the cross. Mary Magdalene hears him surrendering his soul to his Father. She also witnesses his last words to the good thief, to his mother, to John, to the centurion.
Jesus says nothing to Mary Magdalene. Mary Magdalene does not speak to him either. They both suffer in silence.
Mary Magdalene is crying. Water flows from her eyes. Blood flows from Jesus' wounds. Tears and blood mingle quietly. Mary Magdalene is suffering, by the power of the love that unites her with Jesus. Jesus' tortured spirit wraps Mary Magdalene, and then she too is crucified on the cross, in Jesus, and with Jesus, the crown of thorns pierces her soul, and the spearhead that stabs Jesus' heart shatters hers.
Adapted from "Au pied de la croix (At the foot of the cross)", by Pierre de Bérulle.
Take a moment to treasure up all these things and ponder them in your heart (cf Luke 2,19)
Let your speech always be gracious, seasoned with salt, so that you may know how you ought to answer everyone. Col 4:6