Day Three - Mary and Martha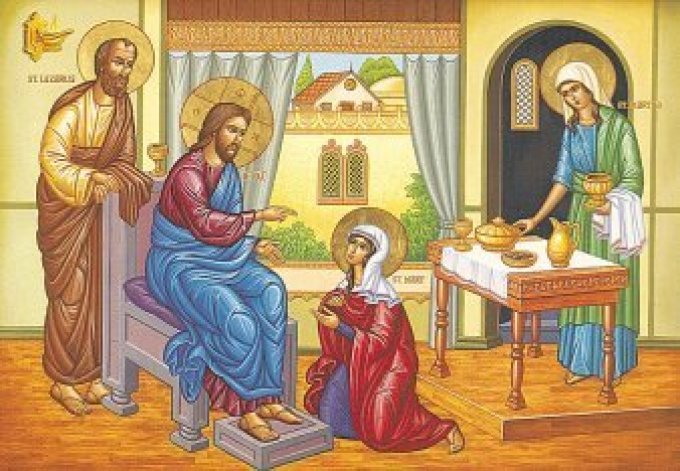 The Gospel
Luke 10, 38-42
As they continued their journey, [Jesus] entered a village where a woman whose name was Martha welcomed him. She had a sister named Mary who sat beside the Lord at his feet, listening to him speak. Martha, burdened with much serving, came to him and said, "Lord, do you not care that my sister has left me by myself to do the serving? Tell her to help me." The Lord said to her in reply, "Martha, Martha, you are anxious and worried about many things. There is need of only one thing. Mary has chosen the better part, and it will not be taken from her."
Meditation
Mary Magdalen asks lots of questions, begs for more teaching, carefully listens when the master speaks. She receives from Christ, and she tries to give back, by putting the word of God into practice.
She absorbs everything she's taught. She understands the importance of what she's witnessing. Listen, Israel, listen! Open your ears, seek the truth, and receive it on behalf of your God! Welcome the Word of God, sown in your heart, take root in God's Verb, may the seed that Christ deposited in your mind germinate. Receive the light, and understand God's love. You'll then love God more than anything. The more you love, the more thoughtful your acts will be, the more virtuous you'll become, the more you'll proclaim God's wonders!
This is what happens to Mary Magdalen. Once released from the snare of her sins, she lets herself be led by Jesus. Nothing, says she, could trouble her. Christ is with me, of whom shall I be afraid?
By staying at the feet of Christ, by drinking at the source of living water, Mary Magdalen shows us what we are expected to do to reach felicity.
By defending her against Simon and his likes, Christ reminds us that we are loved, despite all our sins, and only through him will we be fulfilled.
Mary Magdalene is thrilled to listen to Jesus' voice. When she looks at him, she sees the Verb who was with God, and who chose to become flesh. She is well aware of this privileged moment, and nobody can take it from her. At this very instant, she gets a glimpse of the delights of eternal life, of the divine banquet in the Kingdom.
Mary Magdalene remembers this Samaritan woman they met at the well. Jesus told the woman: "Whoever drinks the water I shall give will never thirst; the water I shall give will become in him a spring of water welling up to eternal life." (John 4,14)
And she understands that by following Jesus, she will thirst no more.
And she wants us to understand too, that one day we shall be united intimately and forever in God's perfect kindness. Then, not only we will thirst no more, but our soul will overflow with grace.
"Such was the share, the best, that Mary had chosen; never will it be removed from her." - Saint Augustine
Take a moment to treasure up all these things and ponder them in your heart (cf Luke 2,19)
Let your speech always be gracious, seasoned with salt, so that you may know how you ought to answer everyone. Col 4:6