Day Fourteen - Spiritual Work of Mercy - To pray for the living and the dead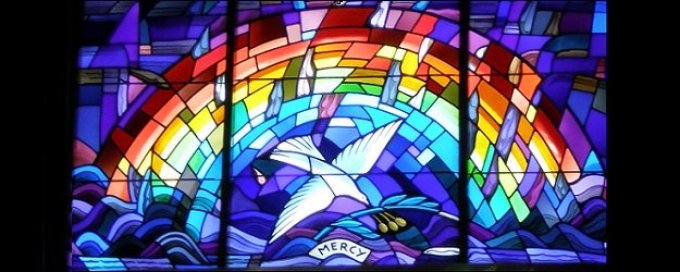 Dear Participants,
Here we are, about to complete our journey through the Works of Mercy.
The last, but not least, of spiritual works of mercy consists of praying for the living and the dead. It is a simple, accessible to all action, although easy to forget in our busy daily life. This is where Hozana comes to the rescue, to help anchor prayer in your daily habits!
This work of mercy is not a standalone one: it is better to think of it as the necessary companion to all the works that precede it. Indeed, carrying all previous works of mercy while praying will help us receive the discernment we need to do so with respect and sensitivity. It will remind us every time of the presence of Christ in others, so that we may approach them with deference, as human beings in the image of God, not as some problem needing to be solved.
Praying for the dead has even more implications: it enables us to keep the communication open between the two sides of the death portal – after all, the communion of saints encompasses both the living and the dead, and while we pray for the dead, they do also pray for us and intercede on our behalf. Also, praying for the dead may shorten their purgatory time. It is an essential work of mercy to pray for the souls in purgatory. Surely knowing that they are on their way to heaven brings joy, but surely too, there are sufferings that purgation must cause, that can be alleviated with our prayers.
Today, we will conclude our series on the works of mercy with the following spiritual work of mercy: to pray for the living and the dead
From the Old Testament:
"The noble Judas exhorted the people to keep themselves free from sin, for they had seen with their own eyes what had happened because of the sin of those who had fallen. He then took up a collection among all his soldiers, amounting to two thousand silver drachmas, which he sent to Jerusalem to provide for an expiatory sacrifice. In doing this, he acted in a very excellent and noble way, inasmuch as he had the resurrection in mind; for if he were not expecting the fallen to rise again, it would have been superfluous and foolish to pray for the dead. But if he did this with a view to the splendid reward that awaits those who had gone to rest in godliness, it was a holy and pious thought. Thus he made atonement for the dead that they might be absolved from their sin." 1 Maccabees 12, 42-46
From the New Testament:
"With all prayer and supplication, pray at every opportunity in the Spirit. To that end, be watchful with all perseverance and supplication for the holy ones." Ephesians 6, 18
Quotes from the Saints:
Padre Pio: "Don't worry to the point of losing your inner peace. Pray with perseverance, with faith, calmness, and serenity."
Teresa of Calcutta: "Prayer is not asking. Prayer is putting oneself in the hands of God, at his disposition, and listening to his voice in the depths of our hearts."
"You can pray while you work. Work doesn't stop prayer and prayer doesn't stop work. It requires only that small raising of the mind to him: I love you, God, I trust you, I believe in you, I need you now. Small things like that. They are wonderful prayers."
Elizabeth Seton: "We must pray without ceasing, in every occurrence and employment of our lives – that prayer which is rather a habit of lifting up the heart to God as in constant communication with him."
Josemaria Escriva: "Your prayer cannot stop at mere words. It has to lead to deeds and practical consequences."
Thérèse of Lisieux: "For me, prayer is a surge of the heart, it is a simple look turned toward heaven, it is a cry of recognition and love, embracing both trial and joy."
John Paul II: "Prayer is, in fact, the recognition of our limits and our dependence; we come from God, we are of God, and to God we return."
Closing words:
Our journey through the Works of Mercy is now complete. I hope that it had inspired you, encouraged you, enlightened you, and overall interested you. I enjoyed writing these posts for you, trying to choose the most relevant and alluring content. Please share in the comments section how these fourteen days helped you become a better person, how they influenced you. Comments regarding the format and content are also welcome.
As we conclude the Works of Mercy, let us remember that in practicing these works, we too will be transformed and made into the image of Christ. For it is in giving that we receive.
United in prayer,
Danielle. for CSNT.
Take a moment to treasure up all these things and ponder them in your heart (cf Luke 2,19)
Let your speech always be gracious, seasoned with salt, so that you may know how you ought to answer everyone. Col 4:6