Day Thirteen - Spiritual Work of Mercy - To console the afflicted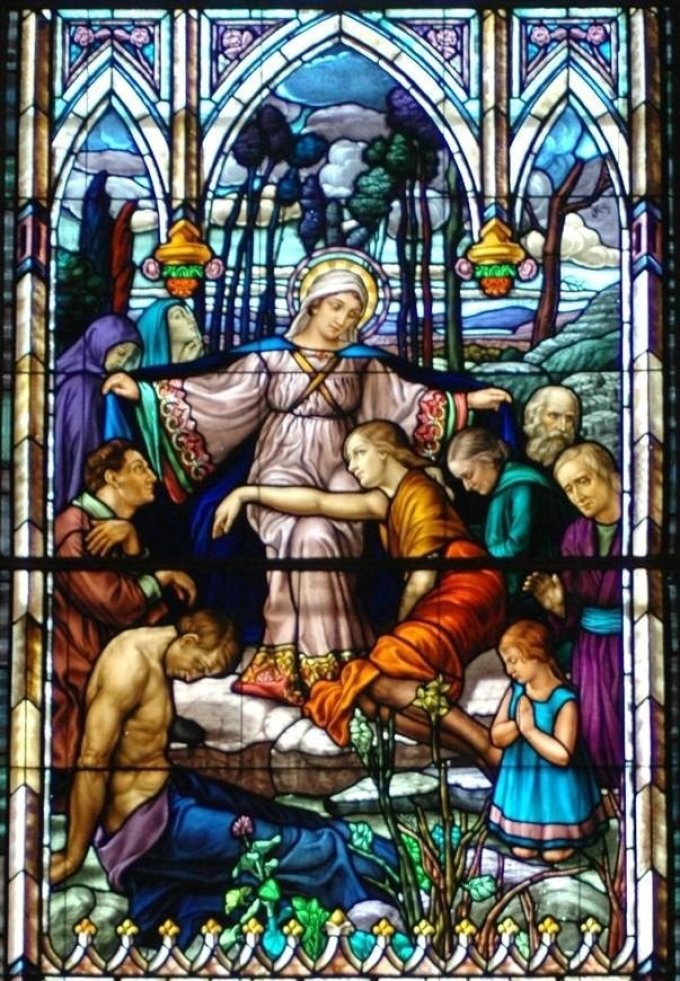 Dear Participants,
Consoling the afflicted, as any other work of mercy, is not easy. But in that case, it's for a different reason. Our society taught us that suffering, affliction, is a sign of weakness. Thus we have to either solve the "problem" or dismiss the person's suffering altogether. As a result, many of us will always act as if everything were perfectly fine.
In the actual world were evil seems everywhere, where loneliness is gaining ground, people need, more than ever, to know that they matter, that their feelings of pain matter, that they are not invisible. Suffering is already hard by itself, and when compounded by a sense of loneliness, it becomes unbearable. It is our duty, as Christians, to step in and say: "I may not have the answer to your questions, nor may I have the magic fix to your affliction. But I see it, I see you behind it. I will not let you sink in your despair, for I will go through it with you".
Today, we will meditate on the following spiritual work of Mercy: to console the afflicted
From the Old Testament:
"Sing out, heavens, and rejoice, earth, break forth into song, you mountains, for the Lord comforts his people and shows mercy to his afflicted. But Zion said, 'The Lord has forsaken me; my Lord has forgotten me.' Can a mother forget her infant, be without tenderness for the child of her womb? Even should she forget, I will never forget you. See, upon the palms of my hands I have engraved you; your walls are ever before me. Your children hasten – your levelers, your destroyers go forth from you;" Isaiah 49, 13-17
From the New Testament:
"Blessed be the God and Father of our Lord Jesus Christ, the Father of compassion and God of all encouragement, who encourages us in our every affliction, so that we may be able to encourage those who are in any affliction with the encouragement with which we ourselves are encouraged by God." 2 Corinthians 1:3-4
From the Saints' life:
Brother André Bessette: Brother André was born in affliction, lived in affliction, understood affliction all too well. He was born in Quebec, Canada, in 1845, the eighth of twelve children. This family was destitute, and André was orphaned before he reached teenage years. He was a sickly, frail boy who could not earn a living because of his ill health. He tried his hand at several non-qualified jobs, but he was dismissed every time after his employers realized how little he could work.
What André didn't have in health, he had it in faith. At age 25, his pastor encouraged him to seek admission to the Congregation of the Holy Cross in Montréal, where he was accepted as a novice. However, he was asked to leave a year later: the congregation members were teachers, and André was still illiterate. But the bishop of Montreal intervened on André's behalf, urging the congregation to find him a suitable position. So they did, appointing him doorkeeper at the College Notre-Dame in Montréal. André joked later, "At the end of my novitiate, my superiors showed me the door, and I stayed there for forty years."
As doorkeeper in a busy college in a busy town, Brother André met hundreds of people. Eventually, they would confide in him and share their troubles and sufferings. Brother André was always prompt to comfort them while advising them to pray to St. Joseph.
In his free time, Brother André visited the sick, kept them company, encouraged them and prayed with them, asking St. Joseph to intercede for them.
Soon, stories of unexplained healings surfaced, and Brother André gained the reputation of the "holy doorkeeper." As the news spread, Brother André was relieved from his duties as doorkeeper to concentrate exclusively on meeting with the sick and the afflicted. In the end, he needed four secretaries to handle the 80,000 letters he received each year.
Brother André was canonized in 2010.
Franz Jägerstätter: Franz was born to an unmarried farmer's maid in 1907 in Austria. Later, his mother married Herr Jägerstätter who adopted Franz.
As a teenager, Franz was described as wild, living a dissolute life, but he always showed a streak of courage. Later, he left his village and worked in the iron industry. When he came back, at the age of 23, he had acquired two things: a motorcycle, the only one in the village, and a deep religious faith. He settled down, married a pious girl named Franziska in 1935, fathered three daughters, and lived the quiet life of a farmer.
But this bliss didn't last for long: from the very beginning, Franz refused to cooperate or support the Nazis, as he viewed Christianity and Nazism as being irreconcilable. In 1938, he publicly opposed the German Anschluss. The next year, he was drafted into the army, received training, and then deferred. In 1940, Franz was conscripted to perform military service, but came back home twice, on the grounds of his "reserved civilian occupation" as a farmer. He ignored a third conscription order. His mother, relatives, even several priests tried to change his mind, but Franz stood his ground: he explained that for him, to fight and kill people so that the godless Nazi regime could conquer and enslave more people would mean becoming personally guilty.
On March 1st, 1943, Franz reported to his regular military company and immediately stated: "Due to my religious views, I refuse to perform military service with a weapon. I would be acting against my religious conscience were I to fight for the Nazi state… I cannot be both a Nazi and a Catholic… There are some things in which one must obey God more than men, due to the commandment 'You shall love your neighbor as yourself', I cannot fight with a weapon. However, I am willing to serve as a military paramedic."
As a consequence, Franz was imprisoned in Linz, where he remained two months. Torture and bullying were his daily routine. At the beginning of May, Franz was transferred to the military remand prison in Berlin-Tegel. The testimonies of his cellmates described a man who shared his bread with others, comforted the desperate, showed calm and courage throughout his incarceration, attempted to lift his companions' spirit, and of course, prayed and invited to pray.
In July, Franz was sentenced to death for "undermining military morale." On August 9th, 1943, Franz, along with 15 other prisoners, was taken to Brandenburg/Havel. There, they were beheaded, forced to lie face up without a blindfold, to watch the blade of the guillotine come down.
Father Jochmann, who was the prison chaplain in Berlin, reported that Franz was calm and uncomplaining. He later said of Franz, 'I can say with certainty that this simple man is the only saint I have ever met in my lifetime.'
Take a moment to treasure up all these things and ponder them in your heart (cf Luke 2,19)
Let your speech always be gracious, seasoned with salt, so that you may know how you ought to answer everyone. Col 4:6