Day 7 : His spirituality (part 2) / Let's pray with Saint Josemaría Escrivá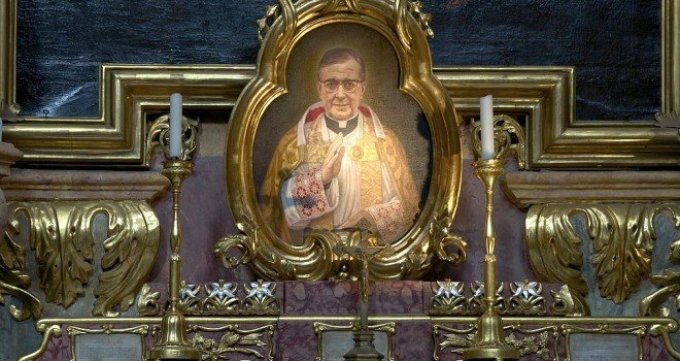 Contemplation is the state of great intimacy of the soul, of union with God, that allows it in a way to already see God on earth, before being plunged for eternity in Heaven in the Trinity's abyss of love. This is not incompatible with a very active life. Being contemplative does not demand to withdraw yourself to a monastery. "We are contemplative in the middle of the world" said Saint Josemaría. "Our life consists in working and praying and the contrary, of praying and working. Because the time comes when we can't make the difference anymore between these two concepts, these two words, contemplation and action, that end up having the same signification in the mind and in the conscience" (Letter, 9th of January 1932). Without work, without fullfilling our personal duties, there can't be for a random Christian life of prayer, a contemplative life.
Without a contemplative life, there would be no great use of wanting to work for Christ. It would be like wanting to sew with a needle without a thread.
Praying
Praying has and will always be the only weapon to become a saint and help men to become ones. "The usual life a Christian who has faith, when he works or when he rests, when he prays or when he sleeps, all the time, is a life in which God is always present", said Josemaría (3rd of March 1954). "We acquire the style of contemplative souls, in the midst of our daily work! Because we become certain that He is watching us, while He asks us to conquer ourselves anew: a little sacrifice here, a smile there for someone who bothers us, beginning the least pleasant but most urgent job first, carefulness in little details of order, perseverance in the fulfilment of our duty when it would be so easy to abandon it, not leaving for tomorrow what should be finished today: and all this, to please him, Our Father God! "
Let's pray with saint Josemaría Escrivá
(in Forge)
It is with joy, Lord, that we found ourselves in your wounded hand. Hold us tight ! Squeeze us, make us abandon all our earthly misery ! Make us purify ourselves, inflame ourselves, be soaked with your Blood ! And then trow us far, very far, with the desire to harvest, to collect, for the love of You, sowings more and more fruitful.
Take a moment to treasure up all these things and ponder them in your heart (cf Luke 2,19)
Let your speech always be gracious, seasoned with salt, so that you may know how you ought to answer everyone. Col 4:6