Day 4: The last years - The divine filiation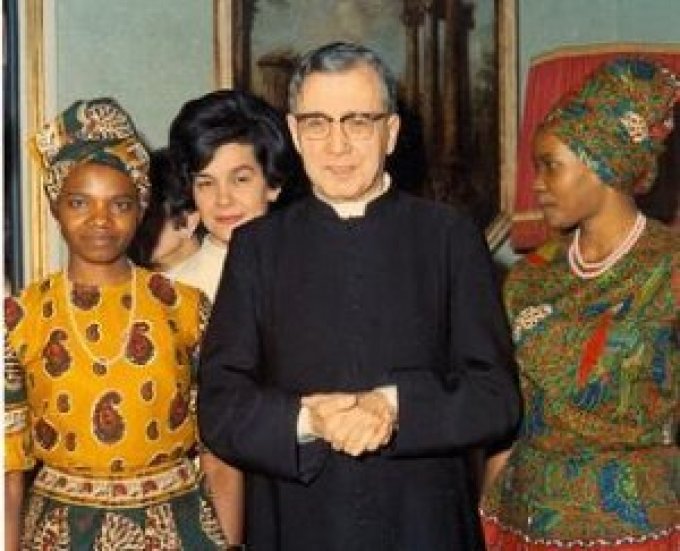 The spiritual support of the founder
In the 50's, Josemaría travels across several European countries to prepare for the arrival of the first members of the Opus Dei, or to encourage them when they are already settled in a city. It is in this way that he crosses over France multiple times when an Opus Dei is opened in Paris in 1953.
In 1960, worried about the tensions that appeared in the Catholic Church after the Second Vatican Council, he goes to Mexico to pray to Our Lady of Guadalupe. IN 1972, he talks to more than 150,000 people, during two months, in a great catechism tour of Spain and Portugal. From May to August 1974 and in February 1975, he travels in the same way to several Latin American countries to meet tens of thousands of people and to encourage them to lead a coherent life according to their faith. He dies abruptly in Rome on the 26th of June 1975. At that point in time, the Opus Dei comprises of 60,000 people ; amongst them 1,000 priests, who all studied and undertook a professional activity for a while. the numerary or associated members stay single and, since 1947, some members can be married: they are the supernumeraries. They receive the same training and look also for their sanctification in their profession, but also in their family life.
Texts from Josemaría Escrivá
The divine filiation (In Christ is Passing By, page 64)
"God is my father!" This crucial truth of the Christian faith, almost common, Josemaría experienced it in a particularly startling way on a day of 1931, as he was anxious about the turn taken by the events, in a city of Madrid in grips with an anticlericalism that seemed to threaten the future of his foundation.
The divine filiation is the basis of the spirit of Opus Dei. All men are chidlren of God ; but a child can look upon his father in many ways. We must try to be children who realize that the Lord, by loving us as his children , has taken us into his house, in the middle of the world, to be members of his family, so that what is his is ours, ans what is ours is his, and to develop that familiarity and confidence which prompts us to ask him, like children, for the moon! A child of God treats the Lord as his father. He is not obsequious and servile, he is not merely formal and well-mannered: he is completely sincere and trusting. Men do not scandalise God. He can put up with all our infidelities. Our Father in heaven pardons any offence when His child returns to Him, when he repents and asks for pardon. The Lord is such a good Father that he anticipates our desire to be forgiven and comes forward to us, opening his arms laden with grace.
Now I am not inventing anything. Remember the parable which Jesus told to help us understand the love of our Father who is in heaven: the parable of the prodigal son. "But while he was still a long way off, his father saw him and took pity on him ; running up he threw his arms around his neck and kissed him." That's what the sacred text says: he covered him with kisses. Can you put it more humanly than that? Can you describe more graphically the paternal love of God for men?`
Take a moment to treasure up all these things and ponder them in your heart (cf Luke 2,19)
Let your speech always be gracious, seasoned with salt, so that you may know how you ought to answer everyone. Col 4:6