Day 2: Priesthood and the sense of what is to be done -Homily (2nd excerpt)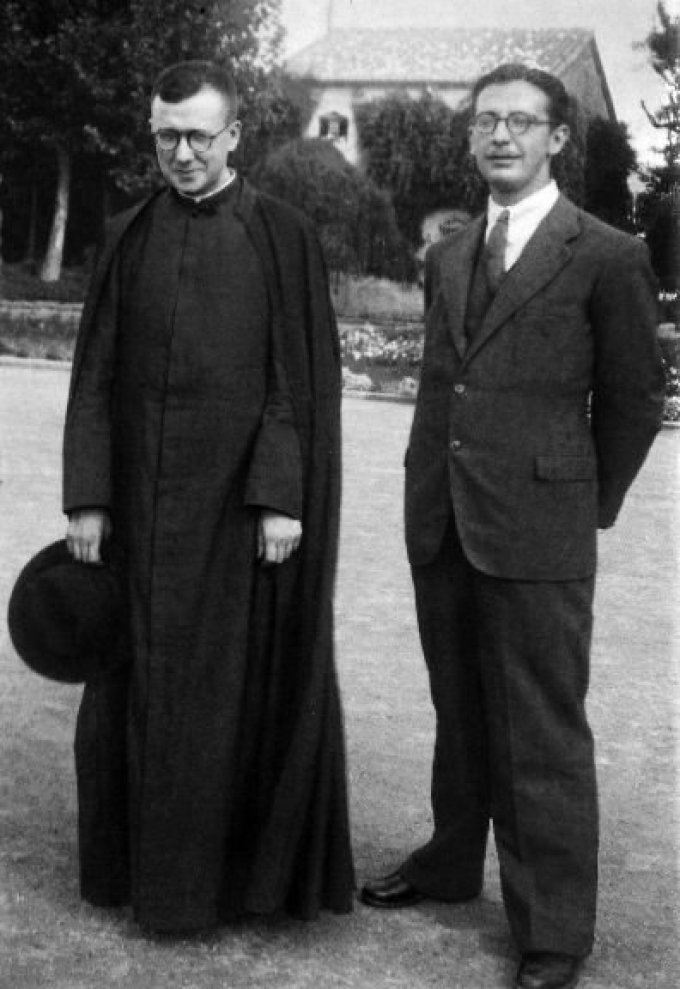 First steps into the priesthood
WHen his father dies, in 1924, Josemaría, still a seminarian, becomes the head of the family. He is ordained a priest on the 28th of March 1925. After practicing his ministry in two rural parishes near Saragossa, he settles in Madrid in 1927 to achieve a PhD in law. He is soon appointed chaplain of a foundation created by nuns, assisting the ill and disinherited living in the capital city and its working class suburbs.
A retreat that changed everything
On the 2nd of October 1928 during a spiritual retreat, Josemariá clearly sees what God expects of him: to put all his strengths at the service of what will become the Opus Dei, a mobilization of Christians ready to sacrifice themselves with joy for others, to divinise all the human ways on earth, to sanctify every legitimate work, every honest work, every terrestrial occupation." In other words to create, inside the Church, a new spiritual family, comprised of numerous laypeople, helped by some priests.
From now on, he sets himself to the task. Without financial means, and without knowing anyone in Madrid, he finds the strength he needs among "terminally ill, poor people abandoned by everybody, children without a family" to whom he asks to pray and offer their sufferings for an intention close to their heart. He also understands that he needs to admit women in the Opus Dei: today, they represent almost half of its members.
Texts from St. Josemariá Escriva
Freedom, a gift from God (second excerpt from the sermon "Freedom, a gift from God", published in "Friends of God")
The love of God marks out the path to truth, justice and goodness. When we make up our minds to tell Our Lord "I put my freedom in your hands", we find ourselves loosened from the many chains that were binding us to insignificant things, ridiculous worries or petty ambitions. From then on our freedom, which is a treasure beyond price, a wonderful pearl that it would be a tragedy to cast before swine, will be used by us entirely to learn how to do good.
This is the glorious freedom of the children of God. Christians who let themselves be browbeaten or become inhibited or envious in the face of the licentious behaviour of those who have not accepted the Word of God show that they have a very poor idea of the faith. If we truly fulfil the law of Christ - that is if we make the effort to do so, because we will not always fully succeed - we will find ourselves endowed with a wonderful gallantry of spirit that does not need to look elsewhere to discover the full meaning of human dignity.
Take a moment to treasure up all these things and ponder them in your heart (cf Luke 2,19)
Let your speech always be gracious, seasoned with salt, so that you may know how you ought to answer everyone. Col 4:6