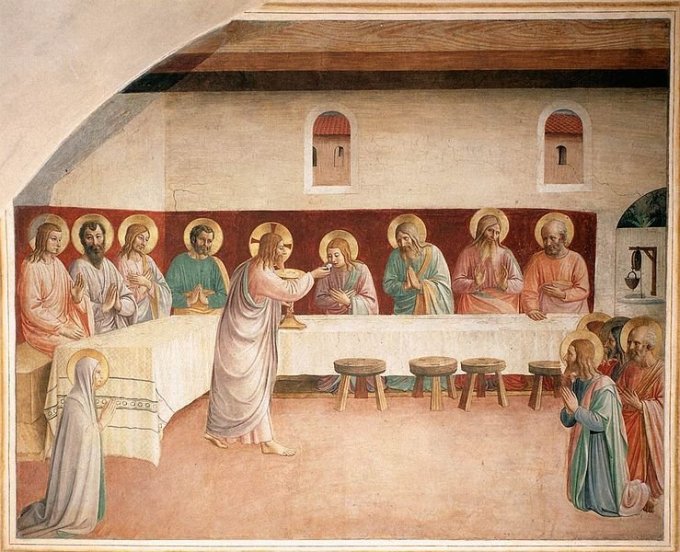 "He should have fed them also with the finest of the wheat: and with honey out of the rock should I have satisfied thee" Psalm 81:16
The first reading of today's mass tells us about the journey of the people in the desert after the exit from Egypt. We see them moan, lament and complain about the new circumstances of their life: they are hungry!
Moses who has to guide this people once more intercedes in their favour. And God answers, He does not abandon His people, He remains faithful to the Covenant. He answers with a promise echoed in the psalm: "He should have fed them also with the finest of the wheat: and with honey out of the rock should I have satisfied thee".
Saint Clara writes in a letter to Saint Agnes of Prague:
"Blissful is she who has been granted intimacy with the divine feast! Blissful is she if she loves with all her heart the One whose beauty has been admired by the angels for all eternity; the One whose love makes one blissful and the contemplation of whom makes one stronger; the One who fulfils us with His kindness and permeates us with His gentleness and whose memory is so full of light and so sweet to our souls; the One whose scent awakens the dead and the vision of whom fills with Bliss the inhabitants of the heavenly Jerusalem" (4 Lag 9-14)
There again we are invited to contemplate Jesus, the Christ, in His Beauty, His Kindness and His Sweetness; He, the Bread of Life, who in every Eucharist offers us "the intimacy with the divine feast"!
In today's Gospel we see him take care of the crowd by giving them the bread they need.
He displays this concern anew every day on all the altars of the world by giving Himself to us as food! What an unheard of gift! What a token of love!
Alas, how indifferent, thankless and tepid we too often are!
Let us ask Santa Clara in this novena to awaken us, make us aware of this gift and have us respond to it – as she did – with joy, ardent love and gratefulness.
Let us starve for the Bread of Life! Let us starve for a whole Eucharistic life!
It is Love that must rule! And God asks us to be His disciples, with the little that we have to go - us too! - and feed the crowds.
Concretely this can mean help the destitute, partake our goods with those who have less of them, but also be "a good bread for the others" by instilling in our day-to-day relationships beauty, gentleness and kindness so that we in turn make ourselves "food" for our neighbour, nourished as we are by the very Life of God!
The disciples had but five breads and two fish "to feed five thousand men, let alone women and children". That was little. Like them we often feel weak and powerless. Yet at each communion God instils in our hearts a love that multiplies the work of grace! As He told Saint Paul (2 Co 12, 9): "My grace is sufficient for you, for my strength is made perfect in weakness".
Let us thus be proud of our weaknesses so that Christ's strength is manifested through us! Let us trust Him!
PRAYER
Lord Jesus, Thou who daily makes Thyself the Bread of Life for us, let the love for Thy Eucharist grow in our hearts! Let us live it intensely, so that it operates its Work of transformation in our lives and our hearts become like Thine. Let us be in turn the "Bread of life" for our brothers.
MEDITATION OF THE DAY
Today I'm partaking the Eucharist and/or I'm devoting some time for Eucharistic Adoration. I'll enter a church and adore Jesus who is present in the tabernacle.
And why not in a missionary approach ask someone to come along?
If this is not possible for me, then I feel hunger; I express to the Lord my desire for Him; I am in spiritual communion with both those who are partaking the Eucharist today and those who are usually deprived of it (because of a lack of priests, persecution, illness or imprisonment).
In a different approach - that of sharing - I'm attentive to the concrete needs of people around me and I try to meet them, even with a smile or by listening to them, helping them as well as by devoting to them my time, my skills or my prayer.
Take a moment to treasure up all these things and ponder them in your heart (cf Luke 2,19)
Let your speech always be gracious, seasoned with salt, so that you may know how you ought to answer everyone. Col 4:6