The Way of the Cross led by Pope Francis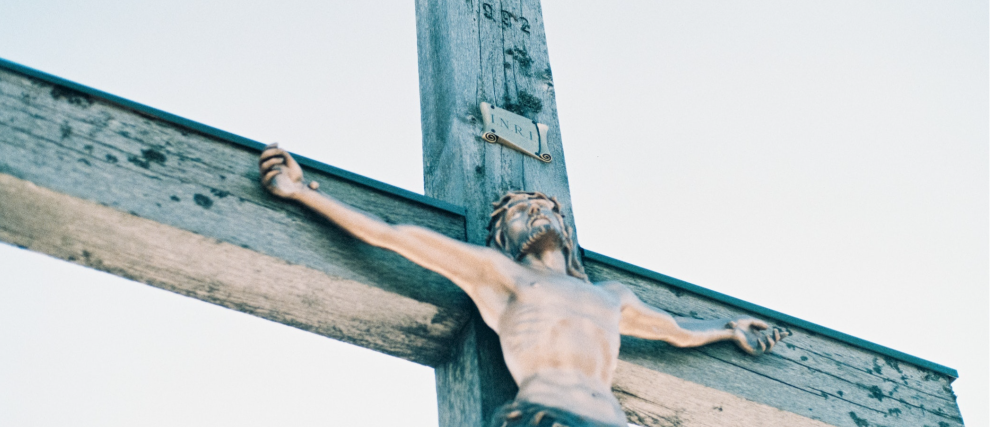 Receive powerful meditations from young people who have responded to the call of the Pope Francis to enter fully into the mysteries of Jesus's passion through the stations of the cross.

57 members
345 shares
All posts

 (14)
Fourteenth station: Jesus is laid in the tomb
John 19, 41-42Now there was a garden in the place where he was crucified, and in the garden there was a new tomb in which no one had ever been laid. And so, because it was the Jewish day of Preparation, and the tomb was nearby, they laid Jesus there....
8 members
0 comments
0 shares
Thirteenth Station: Jesus is taken down from the cross
John 19, 38-40After these things, Joseph of Arimathea, who was a disciple of Jesus, though a secret one because of his fear of the Jews, asked Pilate to let him take away the body of Jesus. Pilate gave him permission; so he came and removed his body....
6 members
0 comments
0 shares
Eleventh Station: Jesus is nailed to the cross
Luke 23, 33-34When they came to the place that is called The Skull, they crucified Jesus there with the criminals, one on his right and one on his left. Then, Jesus said, "Father, forgive them; for they do not know what they are doing.MeditationI see...
5 members
0 comments
0 shares
Twelfth station: Jesus dies on the cross
Luke 23, 44-47It was now about noon, and darkness came over the whole land until three in the afternoon, while the sun's light failed; and the curtain of the temple was torn in two. Then Jesus, crying with a loud voice, said, "Father into your hands ...
5 members
0 comments
0 shares
Tenth Station: Jesus is stripped of his garments
John 19,23When the soldiers had crucified Jesus, they took his clothes and divided them into four parts, one for each soldier. They also took his tunic; now the tunic was seamless, woven in one piece from the top.MeditationI see you, Jesus, naked, as...
5 members
0 comments
0 shares
Ninth Station: Jesus falls for the third time
Isaiah 53:5-6But he was wounded for our transgressions, crushed for our iniquities; upon him was the punishment that made us whole, and by his bruises we are healed. All we like sheep have gone astray; we have turned to our own way, and the Lord has ...
6 members
0 comments
0 shares
Eighth station: Jesus meets the women of Jerusalem
Luke 23, 27-31A number of the people followed him, and among them were women who were beating their breasts and wailing for him. Jesus turned to them and said, "Daughters of Jerusalem, do not weep for me, but weep for yourselves and for your children...
6 members
0 comments
0 shares
Seventh station: Jesus falls for the second time
Isaiah 53,8-10By a perversion of justice he was taken away. Who could have imagined his future? For he was cut off from the land of the living, stricken for the transgression of my people… Yet it was the will of the Lord to crush him with pain.Medita...
6 members
0 comments
0 shares
Sixth station: Veronica wipes the face of Jesus
Isaiah 53,2-3He had no form or majesty that we should look at him, nothing in his appearance that we should desire him. He was despised and rejected by others; a man of suffering and acquainted with infirmity; and as one from whom others hide their f...
6 members
0 comments
0 shares
Fifth station: Simon of Cyrene helps Jesus to carry the cross
Luke 23;26As they led him away, they seized a man, Simon of Cyrene, who was coming from the country, and they laid the cross on him, and made him carry it behind Jesus.MeditationI see you, Jesus, crushed beneath the weight of the cross. I see that yo...
5 members
0 comments
0 shares
Fourth station: Jesus meets his mother
Luke 2:34-35Simeon blessed them and said to his mother Mary, "This child is destined for the falling and the rising of many in Israel, and to be a sign that will be opposed, so that the inner thoughts of many will be revealed – and a sword will pierc...
5 members
0 comments
0 shares
Third station: Jesus falls for the first time
Isaiah 53:4Surely he has borne our infirmities and carried our diseases; yet we accounted him stricken, struck down by God, and afflicted.MeditationI see you, Jesus, making your way to Calvary bearing our sins. I see you fall, hands and knees on the ...
2 members
0 comments
0 shares
Second station: Jesus receives his cross
Mark 8:34-35[Jesus] called the crowd with his disciples, and said to them, "If any want to become my followers, let them deny themselves and take up their cross and follow me. For those who want to save their life will lose it, and those who lose the...
2 members
0 comments
0 shares
First station : Jesus is condemned to death
Luke 23: 22-25A third time he said to them, "Why, what evil has he done? I have found in him no ground for the sentence of death; I will therefore have him flogged and then release him. But they kept urgently demanding with loud shouts that he should...
8 members
0 comments
1 share