Discover St. Augustine's life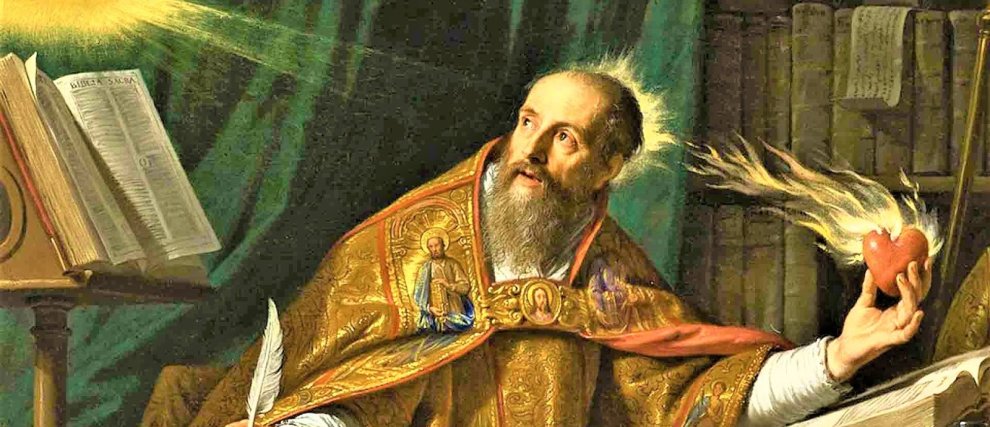 During nine days, discover the tumultuous journey of St. Augustine. After an unbridled youth, he allowed Christ into his life and decided to serve the Church.

41 members
0 shares
All posts

 (9)
"Bishop for you, Christian with you."
A life given to God... and to his people It is an exhausted Augustine who dies on August 28, 430. He is too poor to leave a will, as he gave everything: his time, his energy, his kindness, his knowledge. The Christian life was, for him, the sharing ...
9 members
0 comments
0 shares
One heart, one soul, seeking God
A communal life, at the example of the Apostles With his friends, in Cassiciacum, Augustine tries to create a community of life. "But now I ask you why you desire that those men whom you love should live with you, or should live at all?/In orde...
8 members
0 comments
0 shares
Interiority, path of spiritual life
"Come back to your heart" "Come back to your heart, and from there go to God. Short will be the path if you come back to your heart... You are troubled by what is happening outside of you, and you are lost" (Semon 311,13). The h...
8 members
0 comments
0 shares
A determined pastoral action
The struggles of a bishop Augustine's work and knowledge are duly valued. Valerius, Bishop of Hippo, appoints him coadjutor to the bishop in 395. When Valerius passes away, one year later, Augustine becomes a full bishop. The workload is massive: th...
8 members
0 comments
0 shares
In search of a "healthy leisure"
From the monastery to the implication in the Church At the fall of 387, Augustine and his friends travel back home to Africa. As they prepare to board at the port of Ostia, Augustine and his mother live an extraordinary moment of mystic communion wi...
8 members
0 comments
0 shares
Toward Baptism
Put on Christ... Now, Augustine is a faithful follower of Christ. He separates from his current lover and pretends to be suffering from chest pain to resign from his official position as a rhetorician. He renounces human ambitions. The "gossip ...
8 members
0 comments
0 shares
A radical conversion
Tolle Lege! Take up and read! Following his reading of Saint Paul and the Gospels, Augustine becomes more critical towards Platonist literature, which gave too much importance to science without revealing the essential - the humility of Christ, nece...
8 members
0 comments
0 shares
A long, unsuccessful spiritual quest
Seeking truth Augustin will remain nine years as a Manichean auditor (the lowest level in the sect's hierarchy). During this period, he forms strong and durable relationships that will help him launch his career. In the summer of 383, deeply bothere...
8 members
0 comments
0 shares
A tumultuous youth
Augustine's youth Augustine is born on November 13, 354, in Thagaste (actual Algeria). Back then, Africa is one of the wheat granaries of the Roman Empire. Augustine comes from humble roots: his parents are small landowners. His father, Patrice, is ...
6 members
0 comments
0 shares