Nine days of Prayer with Edith Stein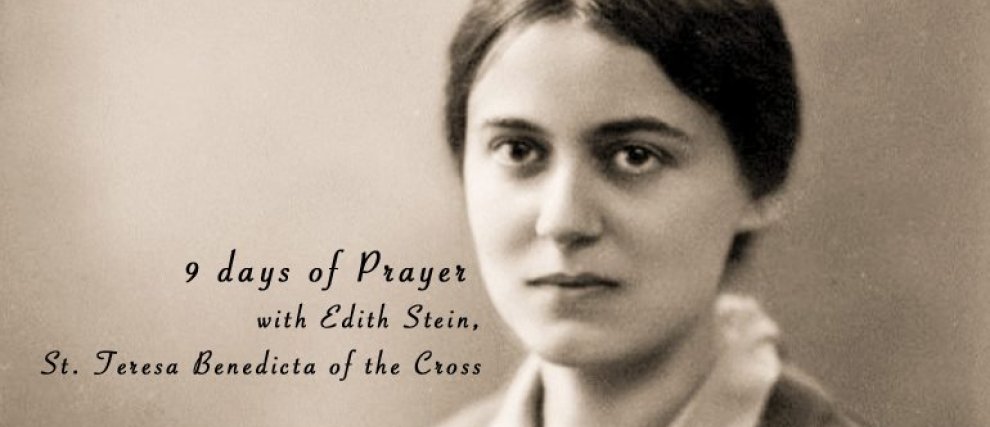 Pray with St. Teresa Benedicta of the Cross, a Jewish-born Carmelite who converted after reading St.Teresa of Avila.
111 members
1 share
All posts

 (9)
29 members
0 comments
0 shares
Day 8: The Cross of Christ , A Model for Today
The Cross of Christ By choosing the Cross of Christ as the mystery in her religious name, Edith Stein makes a bold statement: she is a friend of the Cross of Christ.  We often see the Cross as an instrument of torture and suffering, which&nb...
23 members
0 comments
0 shares
Day 7: The Mystery of Israel
The Mystery of Israel Edith Stein does not view her baptism in the Catholic Church as a rupture with her Jewish identity. Quite on the contrary, she progressively discovers her roots after being baptized. The date of her baptism bears a particula...
26 members
0 comments
0 shares
Day 6: Spirituality, Anthropological Foundation
"Whoever lives within the Holy Church and its liturgy, that is to say, in a genuinely Catholic manner, will find himself incorporated in this so great human community" - Poem 83 Edith Stein's spirituality is marked by her quest for ...
24 members
0 comments
0 shares
Day 5: Martyrdom, Radiance
Towards martyrdom… At the end of 1938, after the infamous Kristallnacht or Night of Broken Glass, Edith's convent sends her and her sister Rosa (who was also a convert and an extern sister of the Carmel) to Echt, in the Netherlands, to prot...
25 members
0 comments
0 shares
Day 4: The Teacher, The Speaker, The Carmel
The Teacher, the Speaker, the Academics After her baptism. Edith joins the Normal School of the Dominicans sisters in Speyer. There, she teaches History, German and Latin. Although overqualified for such a task, she explains patiently, giving...
26 members
0 comments
0 shares
Day 3: Spiritual experience, Conversion
Spiritual Experience and Conversion Edith follows Husserl through his different assignations, Gottingen, then Freiburg, and finally Breisgau, because she needs his support for her thesis, but also because she becomes his assistant in 1916.  At...
30 members
0 comments
0 shares
Day 2: Studies, War, Depression
The joy of study, in Breslau and Gottingen: Friendship and studies are intimately tied, since the four leaves of the Clover study together at the University of Breslau.  Edith commits herself to a substantial program including History, German,...
34 members
2 comments
0 shares
Day 1: Childhood, Adolescence
Edith was born in 1891 in Breslau, then Prussia, in a Jewish family. Her quest for the truth leads her, through the study of the philosophy of phenomenology under Dr. Husserl, to convert to Christian faith while reading the Life of Saint T...
42 members
0 comments
0 shares